Growth - Positioning Methodology
Problem & Personae
Contingent CXO provide in depth assistance and guidance to position the problem and mindset of our Clients end-Customers, as a way to baseline testing of any solution.
By virtue, this also provides a platform for Lean Methodology, which the team also champion.
Click on the icon below for a free eBook on How to Position Ideas & Solutions.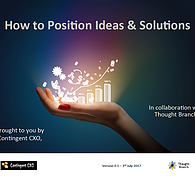 Positioning
Story describing the feature from the view point of the Customer
Personas of Customer in that story, positioning their mindset
Develop Customer Personae

Define perceived behavioural aspects of the Customer
Define decision makers, users, internal / external influencers
Get all internal resources aligned with the perceived mindset of the Customer

Competitive landscape profiling